ISO 9001 CERTIFIED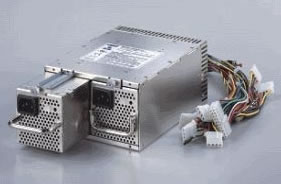 Switching Power Supplies
UMEC has developed a complete series of switching adapters to supply everything from medical instruments, scanners, LANs, to Notebook PCs. UMEC has been developing new adapters for internet products, multi-media, PC, and communication products.
UMECís complete line of 10W to 100W open frame switching power supplies cost-effectively serves many customer designs including network products, security products, communication products and test instruments, etc.
Also available are encapsulated AC/DC switching power supplies from 10 to 30 watts.
DC-DC Converters
UMEC DC-DC converters provide up to 200 watts of power and are used in communications, computers, industrial controls and many consumer applications. Cross-referencing is available for many manufacturers (Lucent and Astec DC/DC converters Ė please ask).
Industrial Custom Power Supplies
UMEC makes industrial power supplies for computers, servers and workstations. They range from 200 watts to 400 watts and are available in 1U and 2U packages.