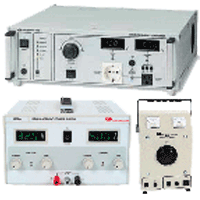 Power Supplies:
Bench and Rack-mount AC Power Supplies
AC Power Source and Frequency Converter
Variable AC Power Sources
AC or DC Power Supply
AC Power Instrumentation
Autoscan True RMS AC Power Analyzer
AC Digital Wattmeter

Bench and Rack-mount DC Power Supplies
DC Benchtop/Laboratory Power Supplies
Bench and Rack-mount AC Power Supplies The Global Specialties Model 1550 AC Power Source and Frequency Converter provides excellent value and just what is needed on the test bench. Output voltages are variable up to 30 volts above and below the nominal line. A separate output for 115 and 230VAC eliminates chances of wrong voltage being accidentally applied to sensitive and expensive equipment under test. The unit features trips for overload or overheat and indicates the condition via a front panel alarm. It is ideal for testing and qualification of electronic equipment at variable line frequencies, especially for equipment destined for 50 Hz European applications and for 400 Hz aviation applications. At the 60 Hz frequency, the Global Specialties Model 1550 can be used as a universal AC Power Source/Frequency Converter, for both domestic and international product testing and certification.
The Global Specialties 1504, 1505, 1506, and 1507 Variable AC Power Sources are designed for modern electronic laboratories needing a clean, electronically and galvanically isolated variable line supply. All designs feature a super isolation transformer which is triple shielded from the input line for maximum protection against shock hazard. A convenient front panel plug accepts a probe for measuring leakage current up to 9.99mA. All units are overload protected with a fuse and a separate output switch. The model 1507 provides dual outputs. Rack mounting is achieved by sliding away the side panels which expose channels in the instrument's chassis. The accuracy, superior quality and safety features make these units perfect for research & development laboratories, medical facilities, plant maintenance, manufacturing and educational institutions. The Global Specialties Model 1315 AC or DC Power Supply provides electronics laboratories with an economical 0-25 VDC/VAC supply at up to 5 Amps.
AC Power Instrumentation A related instrument is the Model 1521 Autoscan True RMS AC Power Line Analyzer. This state-of-the-art instrument is ideal for providing complete information about any electrical load connected to the AC line. It monitors/scans sequentially voltage, current, power, VA, power factor & line frequency, thus providing a clear picture of the load. Superior accuracy & reliability are achieved through advanced DSP techniques. All parameters are displayed on the front panel of the instrument. Data logging and remote control are provided via the standard RS-232 interface. The Model 1522 AC Digital Wattmeter measures True-RMS AC voltage, AC current and AC power in a simple, easy-to-use instrument.
Bench and Rack-mount DC Power Supplies
Global Specialties offers a full range of DC Benchtop/Laboratory Power Supplies. Models are available with single, dual and triple outputs. Outputs are continuously variable from 0 to rated voltage and can be operated in constant voltage or constant current modes. Automatic overload protection and front panel meters are provided to monitor output voltage and load current for most outputs. Most output voltage and current limit settings can be varied manually using front panel controls. All of the outputs are floating - neither the output positive terminal nor the negative terminal (nor any point within the regulator circuitry) is connected to ground. These power supplies are indispensable tools for product development, testing, quality control, servicing and education.
Tools, Test Equipment & MRO: Breadboard kits, variable AC power supplies, function/pulse generators, counters, logic analyzers.
http://www.globalspecialties.com/products.html